Access Storage - Yorkdale
New! Contact-Free Storage Rentals.
195 Cartwright Ave, Toronto ON M6A 1V5

Moving supplies

video surveillance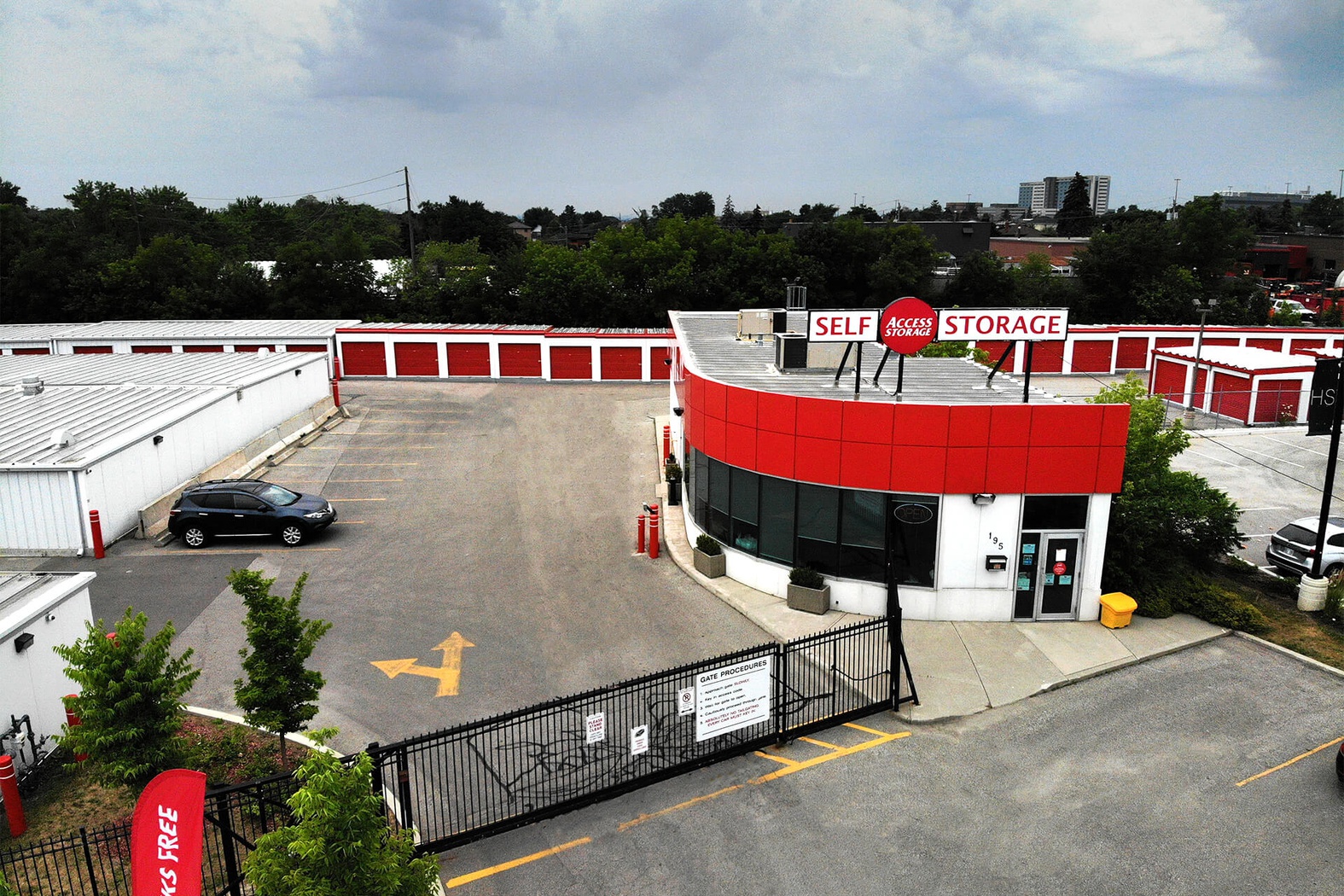 Contact-Free Storage - Rent Online or Over the Telephone!
Best Rate (Based upon availability)
$28 per week
5'×5'
25 Square Feet
1 Unit Left
Best Rate (Based upon availability)
$44 per week
* Minimum four week rental. Offers are valid for new clients only, not applicable to unit transfers, may not be combined and are based on availability. Prices may be different due to rounding. The offer does not apply to mailboxes or portable storage containers and cannot be combined with affinity programs or event promotions.
Reservation Centre
| | |
| --- | --- |
| Day | Hours |
| Monday | 8am to 10pm ET |
| Tuesday | 8am to 10pm ET |
| Wednesday | 8am to 10pm ET |
| Thursday | 8am to 10pm ET |
| Friday | 8am to 10pm ET |
| Saturday | 9am to 7pm ET |
| Sunday | 9am to 6pm ET |
Store Hours
| | |
| --- | --- |
| Day | Hours |
| Monday | 9am to 5pm |
| Tuesday | 9am to 5pm |
| Wednesday | 9am to 5pm |
| Thursday | 9am to 5pm |
| Friday | 9am to 5pm |
| Saturday | 9am to 5pm |
| Sunday | Closed |
* Hours are local time unless stated otherwise.
Gate Hours
| | |
| --- | --- |
| Day | Hours |
| Daily | Open 24 hours |
Client Testimonials
"I'm writing this review of an acknowledgement for the great service I have received end-to-end. From the first time I picked up the phone, to check-in, to email questions everyone has been kind and pleasant. More importantly, they stop to understand whatever it is that I've asked for help with and then respond appropriately. Thank you."
- Brad Footit
"Megan is extremely helpful! I am new to renting a storage facility and she's been awesome to work with. I've had pleasant interactions with the manager, and all the staff who work at this facility. The prices are way better than any other facilities I've checked out and overall great experience so far. Thanks for making it easy!"
- Cee Jay
"Amazing place. Needed to store some items before I moved. The locker I got was priced very well. Staff was helpful and its open 24 hours a day. What more could you want"
- Dan Greer
"The staff members were extremely helpful and courteous. I would definitely use them again and would recommend Access Storage to others. GREAT job"
- Darrell Anderson
"I would just like to comment on the site and the staff. The site is fantastic and I would recommend it to anyone looking for storage. The staff was very helpful and really helped me throughout the moving and storage process. Great team, definitely recommend to anyone!"
- K Bonsu
"This was my first time using self storage and it went very smoothly. Ian was a very big help for me with everything I needed. Definitely will go back when I need to!"
- Katherine Gusztak
"Megan was very helpful and a pleasure to deal with. I went for a tour of the facility where Sonia (DM) and Megan showed me all of what Access had to offer. They were very knowledgeable and accommodating. Super easy to deal with them. Daniela, who I met a few days later, was also very accommodating, she has offered the same level of professionalism and service as Sonia and Megan initially treated me with. Very easy company to deal with. A+++"
- Mathieu Boudreau
"Excellent Staff, Very friendly and helpful, made the experience of moving my son so easy, highly recommend this place."
- Russell Arnott
"Great staff, great facility! Easy to access and load stuff in and out. Great price for temperature controlled and security alarmed units. I highly recommend it."
- Tom Perlinski
"This place is setup for large moving truck. Handy location, friendly and efficient staff and above all the price is right. They have the lowest rates anywhere."
- Vera Seeton
Contact-free Rentals Are Easy and Secure!
While our stores and team remain available to support you, we now offer contact-free rentals which means that you are able to move into your rental unit while maintaining a physical distance. In this case, our store team will confirm your government issued ID via email, ensure your paperwork is in order and issue your personal security code over the telephone.
As an added convenience, we are happy to place your required boxes and moving supplies directly into your storage unit, in advance of your move-in.
Are you looking for a place to store your extra inventory or archives? Or how about space for the antiques that you inherited from your Grandparents? Or room for your collection, hobby materials or craft supplies? Or even an area where you can stow your off-season sporting gear? Access Storage's Yorkdale facility is the perfect place to store both business and personal items alike. In fact, we offer a complete range of storage solutions right in the GTA.
Convenient location
Located just south of the 401 and minutes away from Yorkdale Shopping Centre, our Yorkdale location is easy to access by car or public transit. This ensures that your things will always be close at hand when you need them.
Storage solutions to suit your needs

Some storage facilities only offer one type of unit, but we know that one size doesn't fit all — at least not when it comes to storage units. That's why we offer spaces of varying dimensions. If you only need a bit of space, consider our smallest unit, a 5'x5' area for only $26 a week. On the other hand, if you have several big items or need a place to store all your furniture for a while, a 15'x15' unit for $105 a week may be more suited to what you need.
We also offer both heated spaces that will protect your belongings from the harsh Toronto winters and drive-up units that are perfect for storing machinery and other things that can withstand the weather.
Assistance from our advisers
Not sure what size or type of storage unit is right for you? Our storage advisers are on hand to help you choose a storage solution that's in line with your budget and needs.
We also offer many deals and promotions on our units. Call us today to find out more.
Reliable security features
Worried about other people gaining access to your possessions? Don't be. At Access Storage, we take great pride in keeping our facilities safe. Around the clock video surveillance and individual security codes are in place to ensure that no one gets in without authorization.
Additional features

When you choose Access Storage's Yorkdale location for your storage needs, you can expect the following:
24-hour accessHeating in the winter and air conditioning in the summer
Drive-up units
Interior units
Friendly service
Dollies on site Moving supplies for sale in our store
Click here to view all our Toronto Storage Units

Back to top