Access Storage - Saskatoon East
New! Contact-Free Storage Rentals.
331 103 St E, Saskatoon SK S7N 1Y9

24 hour security

Moving supplies

video surveillance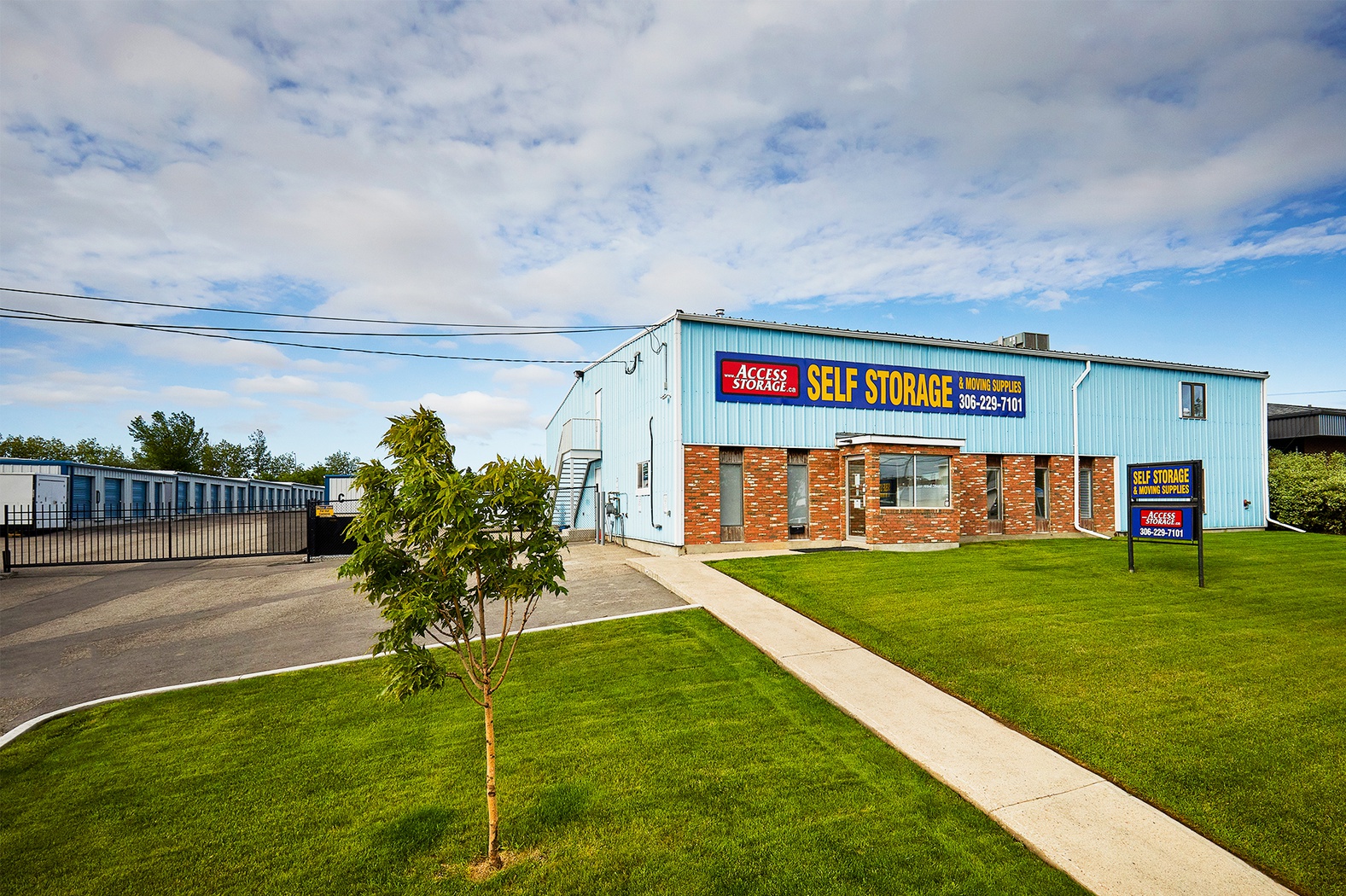 Contact-Free Storage - Rent Online or Over the Telephone!
5'×5'
25 Square Feet
Call for today's availability
Best Rate (Based upon availability)
$27 per week
5'×15'
75 Square Feet
Call for today's availability
* Minimum four week rental. Offers are valid for new clients only, not applicable to unit transfers, may not be combined and are based on availability. Prices may be different due to rounding. The offer does not apply to mailboxes or portable storage containers and cannot be combined with affinity programs or event promotions.
Reservation Centre
| | |
| --- | --- |
| Day | Hours |
| Monday | 8am to 10pm ET |
| Tuesday | 8am to 10pm ET |
| Wednesday | 8am to 10pm ET |
| Thursday | 8am to 10pm ET |
| Friday | 8am to 10pm ET |
| Saturday | 9am to 7pm ET |
| Sunday | 9am to 6pm ET |
Store Hours
| | |
| --- | --- |
| Day | Hours |
| Monday | 9am to 5pm |
| Tuesday | 9am to 5pm |
| Wednesday | 9am to 5pm |
| Thursday | 9am to 5pm |
| Friday | 9am to 5pm |
| Saturday | 9am to 5pm |
| Sunday | Closed |
* Hours are local time unless stated otherwise.
Gate Hours
| | |
| --- | --- |
| Day | Hours |
| Daily | 6am to 11pm |
Client Testimonials
"Megan is extremely helpful! I am new to renting a storage facility and she's been awesome to work with. I've had pleasant interactions with the manager, and all the staff who work at this facility. The prices are way better than any other facilities I've checked out and overall great experience so far. Thanks for making it easy!"
- Cee Jay
"The staff members were extremely helpful and courteous. I would definitely use them again and would recommend Access Storage to others. GREAT job"
- Darrell Anderson
"Excellent Staff, Very friendly and helpful, made the experience of moving my son so easy, highly recommend this place."
- Russell Arnott
Contact-free Rentals Are Easy and Secure!
While our stores and team remain available to support you, we now offer contact-free rentals which means that you are able to move into your rental unit while maintaining a physical distance. In this case, our store team will confirm your government issued ID via email, ensure your paperwork is in order and issue your personal security code over the telephone.
As an added convenience, we are happy to place your required boxes and moving supplies directly into your storage unit, in advance of your move-in.
Living Large With Access Storage
Access Storage in East Saskatoon is easy to get to, making it one of our most accessible branches in the area. These storage units are just a few minutes away from busy areas such as North Industrial and Hampton, so you will never have to go too far out of your way to access your storage unit. This Access Storage branch can be found in the corner of Central Ave. and Jessop Ave., just right off 103 St. E.
Low Weekly Prices on Storage Units
We keep things sweet and simple, offering everything you need from a self-storage unit. Our prices vary based on the size of the storage unit, with our smallest starting from 5'x'5'. Larger spaces mean larger savings and come with a complimentary move-in van.
Perks Of Storing With Access Storage in East Saskatoon
With Access Storage, you never have to worry about walking into a messy or inaccessible branch. Our facilities feature awesome security settings. The premises are routinely maintained by our local staff, giving all our customers great everyday service.
Our East Saskatoon facility also features:
Professionally Maintained
Easy Check In and Check Out
Climate Controlled Units
Clean and Well-Lit Facility
Great Everyday Service Gated Property
Back to top