Access Storage - Moose Jaw Earnscliffe
New! Contact-Free Storage Rentals.
123 Diefenbaker Dr, Moose Jaw SK S6J 0C2
The office for this location is located at 16 Lancaster Rd., Moose Jaw SK S6J1M3

24 hour security

Moving supplies

video surveillance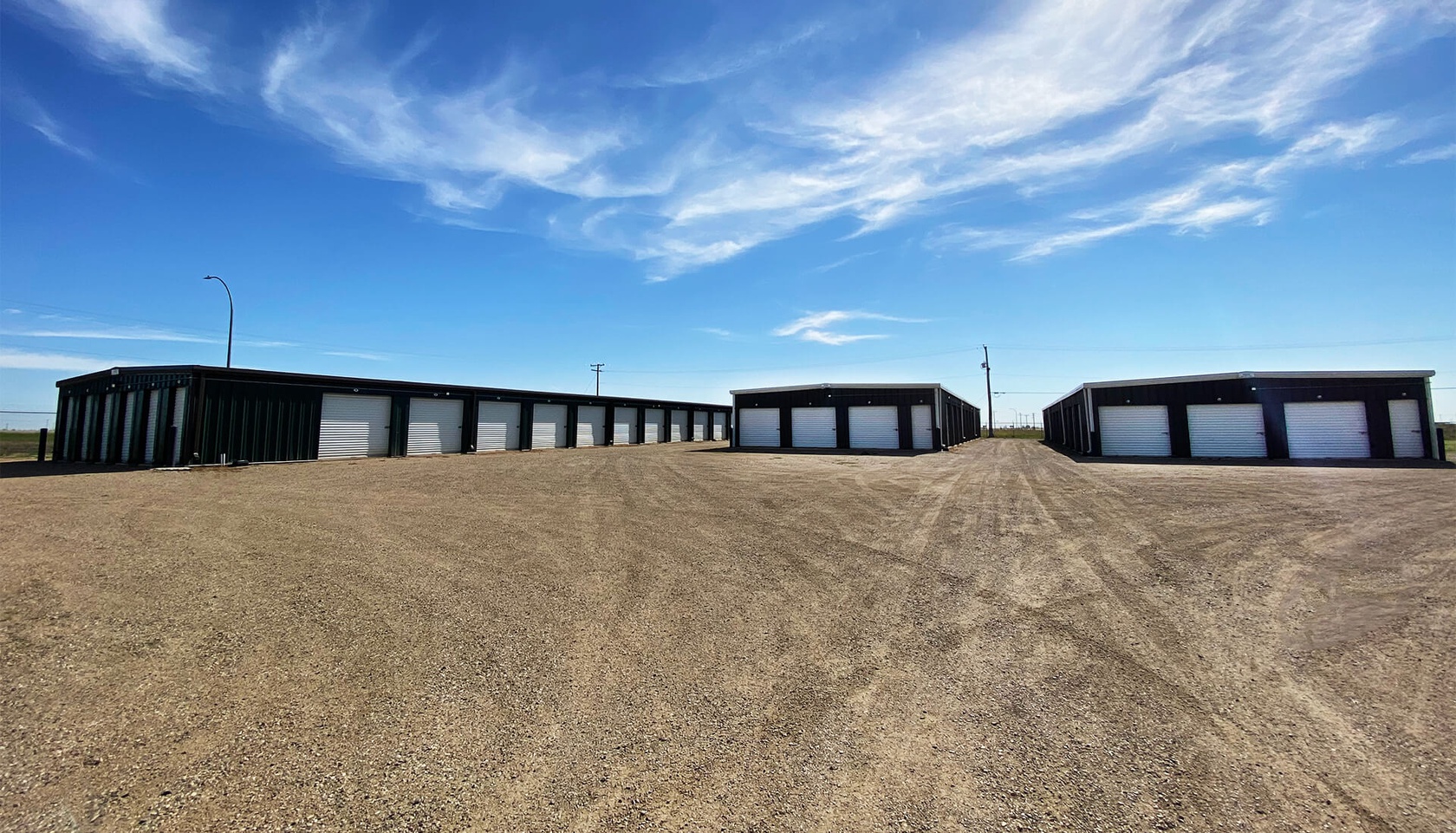 Contact-Free Storage - Rent Online or Over the Telephone!
Best Rate (Based upon availability)
$15 per week
Best Rate (Based upon availability)
$18 per week
* Minimum four week rental. Offers are valid for new clients only, not applicable to unit transfers, may not be combined and are based on availability. Prices may be different due to rounding. The offer does not apply to mailboxes or portable storage containers and cannot be combined with affinity programs or event promotions.
Reservation Centre
| | |
| --- | --- |
| Day | Hours |
| Monday | 8am to 10pm ET |
| Tuesday | 8am to 10pm ET |
| Wednesday | 8am to 10pm ET |
| Thursday | 8am to 10pm ET |
| Friday | 8am to 10pm ET |
| Saturday | 9am to 7pm ET |
| Sunday | 9am to 6pm ET |
Store Hours
| | |
| --- | --- |
| Day | Hours |
| Monday | 9am to 5pm |
| Tuesday | 9am to 5pm |
| Wednesday | 9am to 5pm |
| Thursday | 9am to 5pm |
| Friday | 9am to 5pm |
| Saturday | Closed |
| Sunday | Closed |
* Hours are local time unless stated otherwise.
Gate Hours
| | |
| --- | --- |
| Day | Hours |
| Daily | Open 24 hours |
Client Testimonials
"Great Experience overall! Getting a storage locker was a cinch. Pricing and contract terms are very flexible. Staff are very knowledgeable and helpful. I liked how they disclosed everything of importance on the contract which is far too often overlooked. 24 hour access, clean facilities, friendly staff....couldn't ask for anything more."
- Al Ferrer
"I was moving to Burlington, ON and needed a climate controlled Self Storage. I rented Storage at the Fairview St. location. The customer service was great. The storage units were clean and bright. I also needed some boxes and was offered a 10% discount because I actually spent so much money on other packing supplies. I highly recommend Access Storage if you are looking to rent a self storage unit."
- Angel Conway
"I'm writing this review of an acknowledgement for the great service I have received end-to-end. From the first time I picked up the phone, to check-in, to email questions everyone has been kind and pleasant. More importantly, they stop to understand whatever it is that I've asked for help with and then respond appropriately. Thank you."
- Brad Footit
"Megan is extremely helpful! I am new to renting a storage facility and she's been awesome to work with. I've had pleasant interactions with the manager, and all the staff who work at this facility. The prices are way better than any other facilities I've checked out and overall great experience so far. Thanks for making it easy!"
- Cee Jay
"Amazing place. Needed to store some items before I moved. The locker I got was priced very well. Staff was helpful and its open 24 hours a day. What more could you want"
- Dan Greer
"The staff members were extremely helpful and courteous. I would definitely use them again and would recommend Access Storage to others. GREAT job"
- Darrell Anderson
"The service is phenomenal. Ian is a great guy, very willing to help, very knowledgeable, very easy to be around. Moving stuff in and out was simple with the carts and large elevators. Storage space was plentiful. The place looked nice, was quiet, and the lobby was incredibly organized and welcoming. Would recommend this facility to anyone."
- Eric Salkauskas
"I would just like to comment on the site and the staff. The site is fantastic and I would recommend it to anyone looking for storage. The staff was very helpful and really helped me throughout the moving and storage process. Great team, definitely recommend to anyone!"
- K Bonsu
"This was my first time using self storage and it went very smoothly. Ian was a very big help for me with everything I needed. Definitely will go back when I need to!"
- Katherine Gusztak
"Megan was very helpful and a pleasure to deal with. I went for a tour of the facility where Sonia (DM) and Megan showed me all of what Access had to offer. They were very knowledgeable and accommodating. Super easy to deal with them. Daniela, who I met a few days later, was also very accommodating, she has offered the same level of professionalism and service as Sonia and Megan initially treated me with. Very easy company to deal with. A+++"
- Mathieu Boudreau
"Excellent Staff, Very friendly and helpful, made the experience of moving my son so easy, highly recommend this place."
- Russell Arnott
"Great staff, great facility! Easy to access and load stuff in and out. Great price for temperature controlled and security alarmed units. I highly recommend it."
- Tom Perlinski
"Amazing staff and great location make this Access Storage the perfect place. We were so impressed with the friendly staff, the time they took to talk with us showed how much they cared. The new staff member, Meagan (Hope I spelled it right) was truly the happiest staff member we've ever talked to in storage! She was so smart on the company and the property. We had to remind her that we weren't secret shoppers! LOL"
- Trevor H
"This place is setup for large moving truck. Handy location, friendly and efficient staff and above all the price is right. They have the lowest rates anywhere."
- Vera Seeton
Contact-free Rentals Are Easy and Secure!
While our stores and team remain available to support you, we now offer contact-free rentals which means that you are able to move into your rental unit while maintaining a physical distance. In this case, our store team will confirm your government issued ID via email, ensure your paperwork is in order and issue your personal security code over the telephone.
As an added convenience, we are happy to place your required boxes and moving supplies directly into your storage unit, in advance of your move-in.
Moose Jaw Storage Facility
Located in Southern Saskatchewan, Moose Jaw is situated less than an hour outside of Regina, the ever-growing capital of the Saskatchewan province. With a population of 33,890 people as of 2016, Moose Jaw is the fourth largest population centre in Saskatchewan. Access Storage Moose Jaw is located on the north end of the town, running parallel to Highway 1, at 123 Diefenbaker Drive on the corner of Diefenbaker Drive and Lancaster Road. Located right off the Trans-Canada Highway, Access Storage Moose Jaw is conveniently located with ease of access for all residents and passersby alike.
Located near the top of so many Moose Jaw neighbourhoods, it's just a quick drive up the road to the storage facility where Access Storage can help meet all of your storage needs. Many neighbourhoods, including Ross Park, Earnscliffe, Fairview, Sunningdale, Lynbrook Heights, and Silver Heights are all under a 10-minute drive to reach the on-site storage facility.
The Moose Jaw facility is located just minutes away from the Western Development Museum, the town hospital, and the city's major shopping centre. There are also multiple gym locations in the surrounding area and a paintball facility just 10 minutes away. With such a variation of businesses nearby, Access Storage Moose Jaw provides a centralized location accessible 24/7 for anyone looking to not only clear out their homes, but use their storage units to better their local businesses.
Access Storage Moose Jaw offers storage units for all your needs, from small households items you are looking to move out of your way to create a more functional space at home, to the much larger personal possessions with the availability of vehicle and boat storage as well as RV storage. You never need to worry about your belongings- with our gated property, you can rest assured your stored items are safe and secure at any time of day or night. Have questions? Whether it be about your storage unit at the Moose Jaw storage facility or the city and surrounding areas, our friendly and knowledgeable staff are available to assist you. With the availability storage lockers and indoor storage units, you can feel at ease knowing your weather sensitive belongings are covered. To make sure your needs are met, the facility offers everything from mini storage to commercial storage to guarantee there is a unit for you.
Moose Jaw Self Storage
The Moose Jaw storage facility offers units of all sizes: 5'x5', 10'x10', 10'x15', 12'x15', 12'x20', and 12'x35'. With such a wide variety of sizing, you are sure to find the right self-storage accommodations for you. Moose Jaw is known for its long, cold, and dry winters as well as the short but warm and wet summers. Interior units are a great solution to keep your belongings out of the rain and protected from the wind.
Moose Jaw is an industrial centre and a major railway junction for agricultural production. With access to the largest units, the storage facility offers a great place to keep your equipment for business and farming alike. Surrounded by multiple transportation companies as well as trailer and RV stores and campgrounds, Access Storage Moose Jaw provides a local home base for your home on wheels when you're not travelling.
Whether you're looking to keep your home clutter-free or give your fifth wheel a place to stay where you don't have to worry about it taking up space in your driveway, the Access Storage Moose Jaw facility has the unit to do it! Get in touch with us today and let us help you find the perfect storage unit for you.
Back to top