Access Storage - Midland Heritage
New! Contact-Free Storage Rentals.
679 Prospect Boulevard, Midland ON L4R 4R3

24 hour security

Moving supplies

video surveillance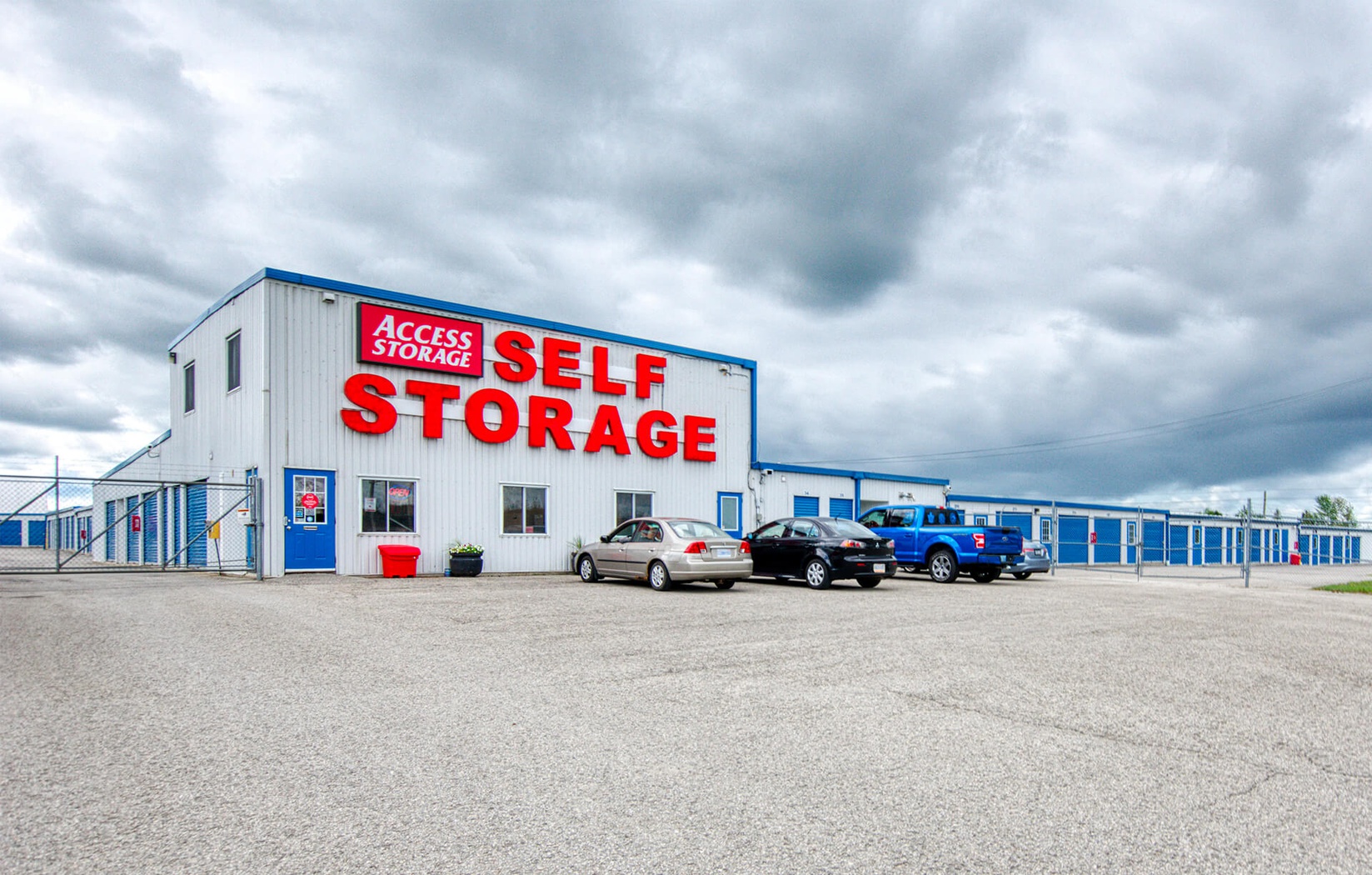 Contact-Free Storage - Rent Online or Over the Telephone!
Best Rate (Based upon availability)
$23 per week
Best Rate (Based upon availability)
$21 per week
5'×15'
75 Square Feet
Call for today's availability
* Minimum four week rental. Offers are valid for new clients only, not applicable to unit transfers, may not be combined and are based on availability. Prices may be different due to rounding. The offer does not apply to mailboxes or portable storage containers and cannot be combined with affinity programs or event promotions.
Reservation Centre
| | |
| --- | --- |
| Day | Hours |
| Monday | 8am to 10pm ET |
| Tuesday | 8am to 10pm ET |
| Wednesday | 8am to 10pm ET |
| Thursday | 8am to 10pm ET |
| Friday | 8am to 10pm ET |
| Saturday | 9am to 7pm ET |
| Sunday | 9am to 6pm ET |
Store Hours
| | |
| --- | --- |
| Day | Hours |
| Monday | 9am to 5pm |
| Tuesday | 9am to 5pm |
| Wednesday | 9am to 5pm |
| Thursday | 9am to 5pm |
| Friday | 9am to 5pm |
| Saturday | 9am to 5pm |
| Sunday | Closed |
* Hours are local time unless stated otherwise.
Gate Hours
| | |
| --- | --- |
| Day | Hours |
| Daily | 6am to 11pm |
Client Testimonials
"I'm writing this review of an acknowledgement for the great service I have received end-to-end. From the first time I picked up the phone, to check-in, to email questions everyone has been kind and pleasant. More importantly, they stop to understand whatever it is that I've asked for help with and then respond appropriately. Thank you."
- Brad Footit
"Megan is extremely helpful! I am new to renting a storage facility and she's been awesome to work with. I've had pleasant interactions with the manager, and all the staff who work at this facility. The prices are way better than any other facilities I've checked out and overall great experience so far. Thanks for making it easy!"
- Cee Jay
"The staff members were extremely helpful and courteous. I would definitely use them again and would recommend Access Storage to others. GREAT job"
- Darrell Anderson
"This was my first time using self storage and it went very smoothly. Ian was a very big help for me with everything I needed. Definitely will go back when I need to!"
- Katherine Gusztak
"Excellent Staff, Very friendly and helpful, made the experience of moving my son so easy, highly recommend this place."
- Russell Arnott
Contact-free Rentals Are Easy and Secure!
While our stores and team remain available to support you, we now offer contact-free rentals which means that you are able to move into your rental unit while maintaining a physical distance. In this case, our store team will confirm your government issued ID via email, ensure your paperwork is in order and issue your personal security code over the telephone.
As an added convenience, we are happy to place your required boxes and moving supplies directly into your storage unit, in advance of your move-in.
The economic centre of the Georgian Bay area, Midland, acts as the gateway to cottage country and doubles in size during the summer months. This active community with its wealth of recreational activities and natural wonders makes us at the Access Storage on Prospect Blvd. proud to be working with such an incredible community.
Conveniently located just off Heritage Dr., on the south end of Midland, across the highway from the Walmart, the Access Storage facility is situated perfectly to take care of every self-storage demand the communities of Wyebridge, Howes Corners, Tiffin, downtown Midland, and any cottager making the trip through town from the south.
The storage complex on Prospect Blvd. is motivated to be providing these fine communities with their storage solutions, for individuals and businesses alike. Whether you are moving houses or renovating your home, relocating from another city or heading to the cottage for the summer, looking to store your boat in the winter or your snowmobile and skiing gear for the summer, decluttering your home or organizing the office, hoping to expand your business' inventory or filing space, the Access Storage in the south of Midland has the answers to every storage project.
From our small, 5x5 lockers up to our large, 10x20 units, we have the unit sizes to fit with any need. With drive-up outdoor units, indoor, climate-controlled ones, and oversized parking spaces for your RV or boat, our storage facility near Heritage Dr. has, as well, the types of units to suit any need. We have the options to work with any budget.
The south Midland Storage complex is outfitted with every advanced self-storage feature available:
Great everyday service
Online accounting/payments
Clean and professionally maintained
Drive-up units
Interior units
Short- or long-term storage
Elevator
Outdoor parking
Oversized parking
Courtesy move-in van
Easy check in and check out
Locally staffed
And once you've dropped your storage items off in their locker, enjoy the peace of mind knowing that our state-of-the-art security system ensures your belongings remain secure:
24-hour security
Gated Property
Individual unit alarms
Secure keypad access
Well-lit
Video surveillance
Our dedication to the highest quality customer service leads us to conceive of every possible storage need one could have. We provide a courtesy move-in van to help you get your items to the facility with ease. We've made making payments and checking accounting information accessible online.
Our staff are experienced storage experts who are from the local area. They're keen to make your storage project a success. Access Storage is a leader in the Canadian self-storage industry, and we can't wait to show you why.
Back to top