Access Storage - Brantford Cedarland
New! Contact-Free Storage Rentals.
601 Park Rd N, Brantford ON N3T 5L8

24 hour security

Moving supplies

video surveillance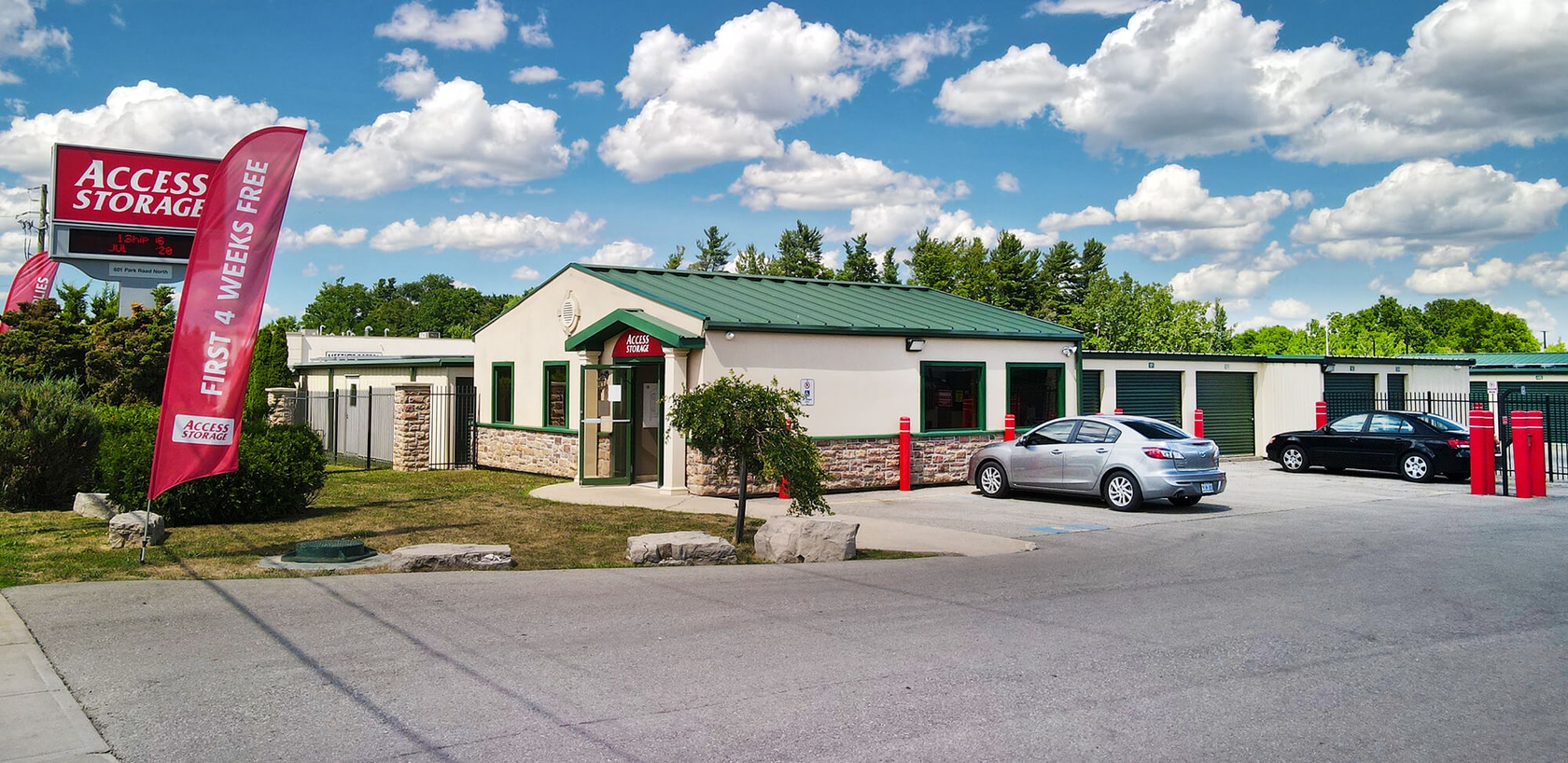 Contact-Free Storage - Rent Online or Over the Telephone!
5'×5'
25 Square Feet
Call for today's availability
Best Rate (Based upon availability)
$24 per week
5'×10'
50 Square Feet
1 Unit Left
5'×15'
75 Square Feet
Call for today's availability
* Minimum four week rental. Offers are valid for new clients only, not applicable to unit transfers, may not be combined and are based on availability. Prices may be different due to rounding. The offer does not apply to mailboxes or portable storage containers and cannot be combined with affinity programs or event promotions.
Reservation Centre
| | |
| --- | --- |
| Day | Hours |
| Monday | 8am to 10pm ET |
| Tuesday | 8am to 10pm ET |
| Wednesday | 8am to 10pm ET |
| Thursday | 8am to 10pm ET |
| Friday | 8am to 10pm ET |
| Saturday | 9am to 7pm ET |
| Sunday | 9am to 6pm ET |
Store Hours
| | |
| --- | --- |
| Day | Hours |
| Monday | 9am to 5pm |
| Tuesday | 9am to 5pm |
| Wednesday | 9am to 5pm |
| Thursday | 9am to 5pm |
| Friday | 9am to 5pm |
| Saturday | 9am to 5pm |
| Sunday | Closed |
* Hours are local time unless stated otherwise.
Gate Hours
| | |
| --- | --- |
| Day | Hours |
| Daily | 6am to 11pm |
Client Testimonials
"I'm writing this review of an acknowledgement for the great service I have received end-to-end. From the first time I picked up the phone, to check-in, to email questions everyone has been kind and pleasant. More importantly, they stop to understand whatever it is that I've asked for help with and then respond appropriately. Thank you."
- Brad Footit
"Megan is extremely helpful! I am new to renting a storage facility and she's been awesome to work with. I've had pleasant interactions with the manager, and all the staff who work at this facility. The prices are way better than any other facilities I've checked out and overall great experience so far. Thanks for making it easy!"
- Cee Jay
"The staff members were extremely helpful and courteous. I would definitely use them again and would recommend Access Storage to others. GREAT job"
- Darrell Anderson
"This was my first time using self storage and it went very smoothly. Ian was a very big help for me with everything I needed. Definitely will go back when I need to!"
- Katherine Gusztak
"Excellent Staff, Very friendly and helpful, made the experience of moving my son so easy, highly recommend this place."
- Russell Arnott
Contact-free Rentals Are Easy and Secure!
While our stores and team remain available to support you, we now offer contact-free rentals which means that you are able to move into your rental unit while maintaining a physical distance. In this case, our store team will confirm your government issued ID via email, ensure your paperwork is in order and issue your personal security code over the telephone.
As an added convenience, we are happy to place your required boxes and moving supplies directly into your storage unit, in advance of your move-in.
Our self-storage facility in the Cedarland area of Brantford, Ontario is a facility that will satisfy all your self-storage needs. The Brantford-Cedarland Access Storage location on Park Road North, between Jaycee Sports Park and Cedarland Park is a premium storage facility with expert staff to keep your self-storage needs covered.
You may be in the middle of renovating, traveling, moving, decluttering your office space, a business needing to store equipment, or a sports coach looking to store gear – regardless of your needs, the Access Storage location in Brantford-Cedarland has all the types and sizes of self-storage units to fit any requirement.
Situated in the north-east end of Brantford, we are more than keen to look after your personal or business items. Brantford, a city rich of history, culture, and achievements (Joseph Brant, Alexander Graham Bell, Wayne Gretzky, etc.), is a place Brantford is a city rich with history and heritage, including its ties to the most populous First Nations reserve in the country, the Six Nations of Grand Rapids. With history and culture like this, Access Storage could not be more pleased to be servicing such a city's storage needs.
Our Brantford-Cedarland location is full of all the self-storage features you could need:
24 Hour Security
Gated Property
Individual Unit Alarms
Drive Up Units
Interior Units
Elevator
Outdoor Parking
Oversized Parking
Clean and well-lit
Professionally maintained
Great everyday service
Easy check in and check out
Locally staffed
Your self-storage needs are easily satisfied at our Brantford-Cedarland location. Our store offers everything related to moving and storage: boxes of all sizes, tape, straps, dollies, paper, bubble wrap, etc. – if it's something that will help with your self-storage needs, then we will have it onsite. The security system here is state of the art and leaves your personal items completely safe in our hands.
Our Access Storage location in Brantford-Cedarland is excited to service the incredible city of Brantford, and beyond. At Access Storage, we keep your personal items as safe as we keep our own. Access Storage is a leader in the Canadian self-storage industry for a reason, and we can't wait to show you why.
Talk with us today and see why Access Storage in Brantford-Cedarland has everything you need to store your items for the long or short-term.
Back to top